Featuring Fairy Face Masks
Meet Over 100 Magical Fairies
Tommy Tinker And The Rescue Of Skye The Baby Owl
Tommy Tinker And The Sacred Fairy Trees Of Ireland
Sugarsnap
The Valentine's Card Fairy
Sugarsnap is a Valentine's Card Fairy and her busiest time for creating amazing and magical cards is from January through Valentine's Day.
Get Your Magical Fairy Valentine's Poem
The fairies have been inspired by their magical surroundings to write you a special Valentine's poem.
Fairy Christmas Market DIY Guide
The Wee Folk are getting ready for Christmas and they want to help you create your own amazing fairy garden.  They have many magical holiday subjects to share with you including Christmas markets, outdoor winter activities and fantastic carnival treats. 
Super Autumn Fairy Garden DIY Guide
It is Autumn in Fairy Land and the wee folk want to help you create your own amazing fairy garden. That's why they chose the themes of Fall, Halloween, and Thanksgiving to share with you in their 'Super Autumn Fairy Garden DIY Guide'
Super Summer Fairy Garden DIY Guide
It is summertime in Fairy Land the fairies want to help you create your own amazing fairy garden.
That's why they chose the themes of camping, beaches, and farms to share with you in their 'Super Summer Fairy Garden DIY Guide'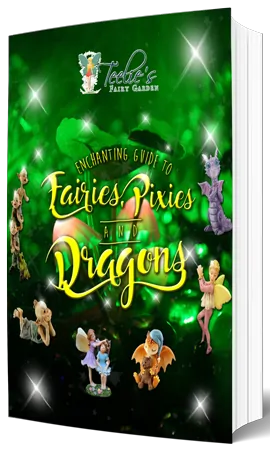 ENCHANTING GUIDE TO
Fairies, Pixies and Dragon
Teelie's Fairy Garden is proud to announce our freshly curated Fairies, Pixies and Dragons guide!
This guide will provide you with knowledge on fairies, pixies and dragons as well as their working relationships and communities.
Author, Artist, Business Mentor/Coach and Designer. Additionally, Teelie is the proud Founder of the Teelie Turner brand which includes Teelie Turner, The Teelie Blog, Teelie Turner Author, Teelie's Fairy Garden, along with these other Brands: Gentleman Pirate Club, Tommy Tinker, Gigi The Magical Chic Fairy, Teelie Turner Author, and even Sexy Anti-Aging. It is safe to say that she has had numerous business ventures—primarily in the realms of publishing, merchandising, electronic commerce, and the fairy garden industry.
When she's not career-focused, Teelie absolutely loves gardening, interior decorating, playing tennis, boating, discovering new places, cooking, and even involving herself in the community via philanthropy. She's also an animal lover with one fur baby, Joey. Four months out of the year, Teelie and her husband enjoy spending time in Idaho, where she continues to write and paint.
Join The Magical Fairy Clubs
The
Fairy Merry
Christmas
CHIME
The New Year's
Fairy
A Magical
Christmas in
Fairyland
Sugarsnap
The Valentine's
Card Fairy
 Teelie Turner does it again! This latest book "Sugarsnap: The Valentine's Card Fairy" is full of sparkle and wonder as it celebrates the season of love! This whole series is a must-get for any kids in your life, or any adults who share a love of fairies! The story is adorable and the artwork is magnificent! Always feel welcomed by an opening sentiment… "May you always believe in the magic of fairies."
Dagny Grant, Intention Media Matrix Productions
New Chime The New Year's Fairy Product Launch
Welcome to Fairy Land. Chime the New Year's Eve Fairy has an incredible story that she'd like to tell you. Chime wants you to know about the work that New Year's Eve Fairies like her do. They don't just work one night a year although December 31st is definitely their busiest night of the year. She loves that each New Year brings us a clean slate and an opportunity for new adventures and hopes and dreams.
New Farmer Fairy Book Release
It is early one morning when Jonathan, a Fairy Farmer shows a human believer in fairies around the special magical farm where he works and lives. He and the other fairies that work there are responsible for caring for all the animals. They don't need an alarm clock because the rooster wakes them up. A Water Fairy and a bit of fairy dust ensure that the animals get watered. Some fairies use tractors and other farm machinery in the fields to make hay. The fairy farm also has a huge garden. Join Jonathan, The Fairy Farmer on his morning walk around the farm so that you can meet the animals and learn about the farm's operations.
My Writing Blog
Follow Along
Welcome back to Teelie Turner Author. This week we decided to share some Valentine's reading choices for children. Enjoy the magic of literacy with your family. A Magical Fairy Tale Teelie...
Holly's Magical Fairy Tale Christmas
A magical tale of a garden fairy and a human girl preparing for Christmas time.
The Halloween Adventures of the 5 Spooktacular Fairy Witches
Five Spooktacular Halloween fairy tales all in one book take you on an adventure filled with sugary treats and magic.